Welcome!
Grace unto you, and peace, from God, our Father,
and the Lord Jesus Christ.
2 Thessalonians 1:2
Thank you for visiting the Brother Bakht Singh Website, which is dedicated to celebrating his life and ministry. According to his autobiography, Brother Bakht Singh first experienced the love and presence of the Lord Jesus Christ when he was an engineering student in Canada in 1929. Even though previously he had torn up the Bible and was strongly opposed to Christ and Christianity, he developed a great love for the Lord Jesus Christ and an intense desire to read and study the Bible. After hearing the Lord's voice and having been convicted of his sinful life, he confessed his sins and accepted the Lord Jesus Christ as his Savior and dedicated his life to serving Him.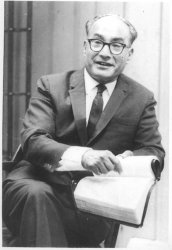 The Lord blessed him with a deep faith and empowered him with compassion, prayer, and a love for scripture. He developed a deep understanding of the church universal, fellowship, and worship. He constantly preached on these subjects with Biblical strength and spiritual conviction. Many of these messages are available on this site in book form, which can be downloaded and read. We also have a few of his audio messages that you can listen to online.
With this Website we want to encourage the large number of people around the world who knew Brother Bakht Singh or were familiar with his life and teachings and to strengthen their faith in the Lord. We also want to introduce this man of God to those who did not know him and invite them to learn more about his dedicated life and the Living God he served.
The ultimate purpose of this Website is to give glory to God—Who alone deserves glory—for His servants like Brother Bakht Singh. We join Dr. T.E. Koshy who writes, "We are richer for having known him and having been taught by him. ...Let us rededicate ourselves to carry out his teachings and his vision so that local churches based on the New Testament pattern may be raised up all over the world for the edification of His Body and for His eternal glory."
May the Lord Jesus Christ bless you richly through this site.
Walk as Children of Light
Be ye therefore followers of God, as dear children; And walk in love, as Christ also hath loved us, and hath given himself for us an offering and a sacrifice to God for a sweetsmelling savour.
Ephesians 5:1-2